A Four-Course Dinner featuring Tedeschi Wines – Toronto
Thursday, November 9th
WineAlign and Noble Estates are pleased to present a private four-course wine pairing dinner at Bricco Kitchen and Wine Bar on Thursday, November 9 with Riccardo Tedeschi and featuring the wines of Tedeschi. The Tedeschi family boasts an almost four-century-long history in the wine business and has always believed in the richness of Italy's Valpolicella wine region. WineAlign's Michael Godel will be joining Riccardo to help guide you through the evening.
About RiccardoTedeschi 
Since 1989, Riccardo Tedeschi has been the winemaker at Agricola F.lli Tedeschi along with his father, Lorenzo Tedeschi. It is from his father, that he learned the Tedeschi style – a way of life which extends to its wines.
Riccardo seeks to bring out the individual character of each wine, and perhaps more importantly the "typical personality" which distinguishes any wine that carries the "Tedeschi" label, a label which guarantees not only quality, but also the constancy of their products. He has adopted modern techniques in wine production, but he continues to favour local grape varieties including very old clones of them (Corvina, Corvinone, Rondinella, Croatina, Dindarella, Negrara, Oseleta, and Troelina). His objective is always to obtain wines with body, bouquet and structure, but above all wines which are elegant and well-balanced. The company's philosophy is founded on continuous innovation in order to promote quality, but without departing from local traditions.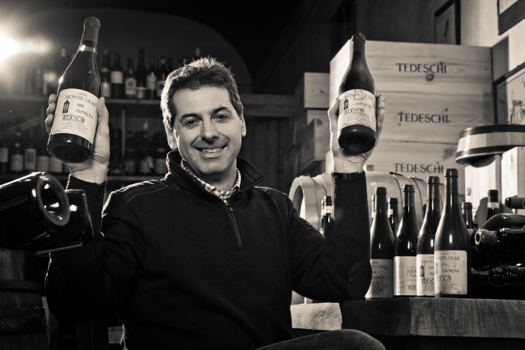 EVENT DETAILS:
Date: Thursday, November 9th, 2017
Time: 6:30pm – 9pm
Price: $75 per person (includes taxes and fees)
Location:  Bricco Kitchen and Wine Bar, 3047 Dundas St West, Toronto, ON M6P 1Z5
Tickets are limited, so book early to avoid disappointment.
MENU:
1st Course
Rabbit cotechino, pomegranate
2nd Course
Risotto all' Amarone, radicchio, grana padano
3rd Course
Braised Venison spezzatino, creamy polenta, heirloom carrots, red wine jus
Dessert
Tiramisu
WINE LIST:
2016 Capitel Tenda Soave Classico
2015 Corasco Appassimento
2014 Maternigo Valpolicella Superiore
2010 Capitel Monte Olmi Amarone della Valpolicella Classico Riserva
1991 Capital Monte Olmi Amarone della Valpolicella Classico Riserva
2015 Capitel Fontana Recioto della Valpolicella Classico
About Bricco Kitchen & Wine Bar:
Bricco Kitchen and Wine Bar is a small restaurant in the heart of Toronto's historic Junction village. The name bricco comes from the Piedmont region in the north west of Italy, in the foothills of the Alps, referring to best slope or hill of the vineyard.  This is an area which mirrors our goal of showcasing a meaningful connection between food and wine. The menu is Italian drawing upon influences from around the Mediterranean with a simple and comforting feel. We offer up to 20 wines by the glass with rotating thematic red and white flights.